Did you know that 60% of finance roles will no longer exist in 10 years time? In other words, if you currently work in finance, there's a good chance that your job will cease to exist in 10 years' time. At least in its current state. What's even more surprising is that 50% of those affected have no idea that their jobs are disappearing. Now that you know this, you're in a great position to prepare yourself for the future of finance and get ahead of the curve. Let me help you with that!
Key Role Changes
At the moment, around half of all finance roles are technical roles. This includes roles in Finance Operations (AP&AR), Internal Audit and Compliance, Treasury etc. However, these are set to shrink by 50% over the next decade, as numerous technical roles become standardised and automated.
Controllers
Similarly, roles within the Controller function are set to halve (think close processes, bookkeeping, reconciliations, reporting, consolidation, group roles, etc). However, a portion of these roles will re-emerge as 'Agile Champion' project managers. These managers will work 'on' finance, rather than 'in' finance, and will drive the transformation of finance processes to a more agile approach.
FP&A
Some of the main roles on the rise are those surrounding Financial Planning & Analysis, forecasted to rise to 30% of total finance roles. However, there will be a huge shake-up in the way that these roles are focused. FP&A roles have traditionally been 'backwards looking' – analysing what happened in the past, sometimes to rudimentally predict the future. However, building on the explosion of computing power, 'big data', and AI, they are starting to move to a more forwards-looking mindset, using forecasts and projections to generate predictions and recommendations.
Data/AI
Speaking of Data and AI, these two innovations will breed a brand-new type of finance related roles. These roles will be focused around data science, but may not always sit within finance. These roles will only grow as companies' data becomes more standardised and can leveraged more strategically by AI functions.
Strategy/M&A
Strategy/Mergers & Acquisitions roles, previously only found in large businesses and enterprises, will become less niche as medium sized businesses will have access to a wealth of new, rich data. With an increase in recommendations and predictions, organisations will need to think more strategically about which of many possible recommendations they should act on.
So is this really coming to your organisation? People often say to me "Oli, you worked at Microsoft, one of the biggest companies in the world… isn't this a skewed view? Surely this won't happen to my company". But as it turns out, it's not just me saying this. In fact, in late 2020, The World Economic Forum released a Jobs Report that backs up my predictions.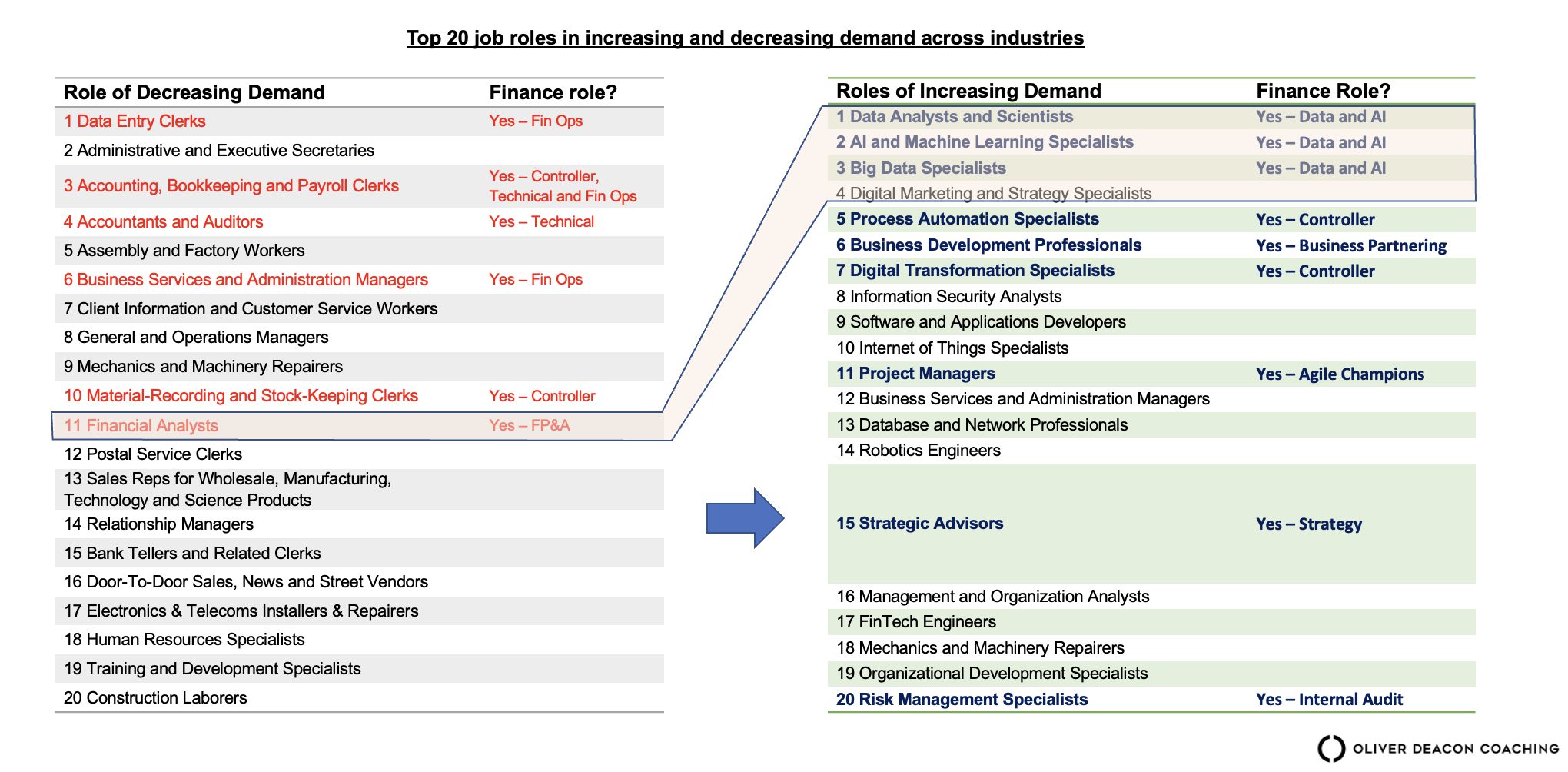 The report concludes that 7 of the top 20 jobs that are going away are in the finance industry, including Accountants and Auditors, Bookkeeping and Payroll Clerks and Financial Analysts. However, it's not all doom and gloom, as 8 of the top 20 that will increase are also seen in finance functions, including Digital Transformation Specialists, Data Analysts and Scientists, and Strategic Advisors.
Tools and Processes
Not only is it the job roles that are set to change in the future of finance, but the tools and processes used by finance professionals too. Here are a few of the changes:
Cloud based finance (ERP) systems
For anybody who doesn't know what this is, ERP systems are Enterprise Resource Planning Systems. Traditionally, 30 years ago you'd have a number of separate systems, one for stock, one for sales, one for finance, and so on… Gradually, over time, these systems started to become more glued together. They tend to be very expensive systems, costing millions of pounds that companies like oracle and SRP come into businesses and put in.
In the future, the cloud will allow ERP (Enterprise Resource Planning) systems to be significantly cheaper, while retaining the functionality. Now, rather than each and every company needing a bespoke ERP system, the core package will be available on the cloud. From there, companies will be able to take a modular approach, picking and choosing which systems they need, allowing for greater cost efficiency.
Data and Analytics
The explosion of 'big' data available to companies, along with the more standardised global systems, will bring more information rich, high-quality data. This, along with the increase of data and information stored in the cloud, will allow data and analytics experts to carry out far more advanced analytics reports and assessments.
Machine Learning/AI.
These detailed analytics will, in turn, power processes such as Machine Learning to create more in-depth predictions and recommendations for the future. While humans can look at 5, maybe 7 variables at a time when trying to forecast, computers can consider thousands, millions, or effectively, (with enough computing power) an infinite number of variables to make amazingly accurate predictions.
Robotic Process Automation (RPA)
RPA is essentially a macro for anything! Simply record your screen while carrying out every day finance processes (such as invoice processes, month-end journals etc.) and RPA system can fully automate the process. This can save finance teams valuable hours, freeing up time for more important processes.
There are a number of huge up-and-coming names in the RPA world, including Automation Anywhere, Blue Prism, and UiPath that offer free online universities for their tools, so it's extremely easy to train yourself and your team to be future proof.
So what's next?
Now, you might be thinking "Got it! My job might be disappearing, what do I do about it?!". Well for starters, the path that you need to take depends on numerous factors, including where you currently are, whether you're a leader or a team member, and where exactly you want to get. However, the starting point is the same no matter what your position.
First, you need to have an understanding of what the future of finance will look like. Then you can start thinking about where you are, where you want to be, and the path you need to take to get there. In the current world, it's not enough just to do a course, read a guide, or study a new degree. Instead, you must demonstrate that you can deliver real impact in a business with your new, learned skills.
This is where finance coaching comes in!
Through my bespoke coaching and mentoring programmes, I coach great finance leaders, individuals and teams on the future of finance, careers management, leadership, people management and personal effectiveness. Enabling them to become even better versions of themselves!
If you're still stuck on how to get ahead of the curve, why not get in touch with me today and book a free 30-minute discovery session? Together we can lay out an action plan, and help you to understand what personal coaching could do for you.